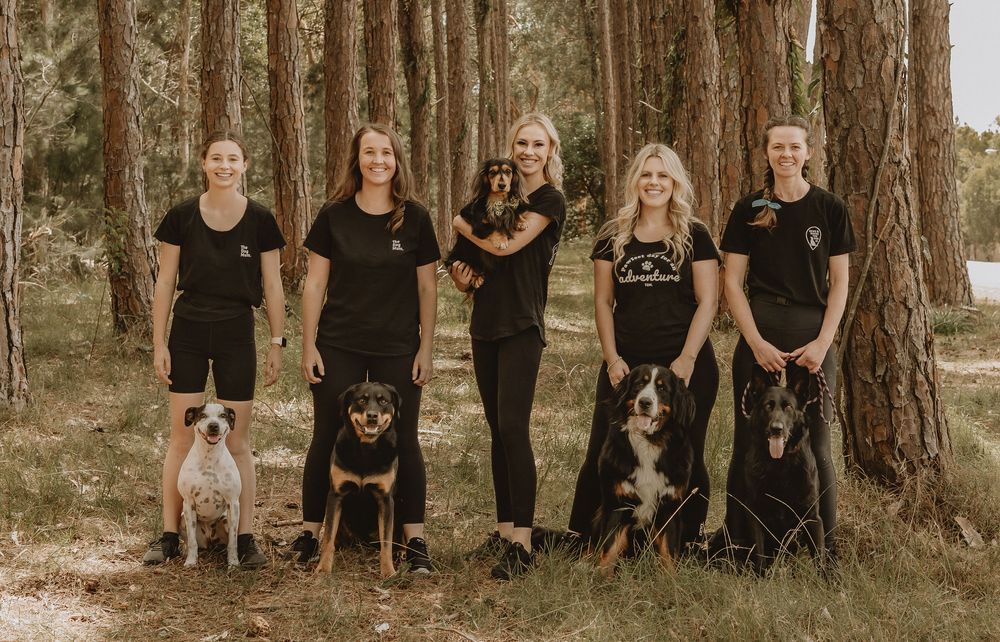 Co-owner, Zoie has been working in the Pet Industry  since she was 20yo (going on 14 years now!!). She is a highly qualified dog trainer and was an instructor on the National Dog Trainers Federation's, Cert III in Dog Training and Behaviour for 5 years. Many of today's trainers, were trained by our very own. Zoie also has many years of experience working in rescue shelters, boarding kennels and as a kennel manager. There isn't much about dogs and the Pet Industry that she does not know. 

Zoie lives and breathes animals in her personal life too. Currently a pet Mum to 4 dogs (3 Bernese and a miniature snag), a rescue cats and 10 chickens. She also has two little boys... but like any good dog trainer, thinks her dogs are way more fun than her furless kids! Zoie is a registered breeder of Bernese Mountain Dogs (her most favourite breed of all time), and you will certainly see a hairy mountain dog or three at The Dog Squad each day, playing up a storm.
Zoie's extensive knowledge of dog training was gained during her time working as a trainer in a large boarding kennel, which saw her training upwards of 30 dogs a day. Zoie is our resident Advanced Training Group Class trainer and she has the knowledge and skills to tackle any training scenario but has a particular interest in reactivity and aggression issues as well as puppy training/raising.
Having been an instructor for the NDTF's Dog Training and Behaviour certification, Zoie has an amazing way of teaching and demonstrating so that owners get the absolute best from their training with her. 
Zoie works Monday, Wednesday, Thursday and Friday.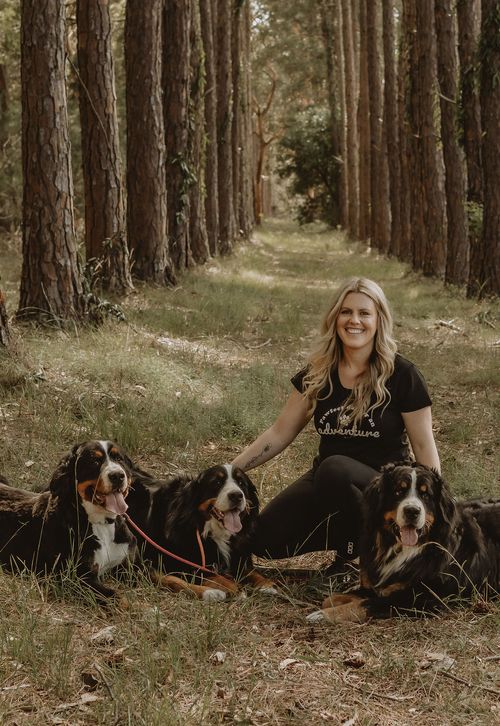 Madeline joined our team mid 2021 and become a co-owner towards the end of the same year. Maddy has worked within the Pet Care Industry since 2013, holding rolls such as kennel attendant, doggy daycare attendant and dog trainer. Before coming to TDS, Maddy  managed another large daycare program on the Central Coast. Her understanding of Canine Behaviour and Socialisation is outstanding and this knowledge is an absolute asset.
Four years ago, Maddy completed her Certificate III in Dog Training and Behaviour through the National Dog Trainers Federation, holding nationally recognised qualifications to back up her many years experience. Her main strengths as a dog trainer are her ability to think outside of the box, her kind, compassionate yet realistic nature and her dedication to improving the quality of life of the dogs and owners she works with. Maddy is our resident Puppy Class and Intermediate Group Class trainer and is excellent at working with dogs with reactivity issues.
Maddy has a rescue terrier x named Benny,  a rescue wolfhound x named Padfoot (who is literally a once in a lifetime angel dog) and a working line German Shepherd named Echo. Maddy and Echo enjoy working on Dog Sports in their downtime on the weekends. 
Madeline works Tuesday, Wednesday, Thursday, Friday & every second Saturday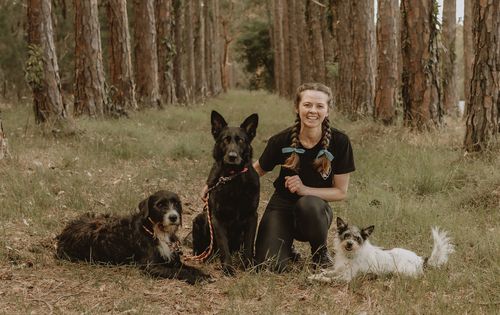 Amy joined our team in September of 2019 and became a co-owner towards the end of 2021. Having worked in the Pet Care Industry for a number of years across all roles; dog training, kennel care, doggy daycare and management, she couldn't have been a more perfect fit for The Dog Squad.
Like many of our staff, Amy has also completed her Certificate III in Dog Training and Behaviour (8 years ago now) through the National Dog Trainers Federation so not only is she highly experienced, she also holds nationally recognised qualifications. Amy has a beautifully patient manner when working with clients and a calming yet commanding presence with dogs. She has a particular interest in advanced/precision obedience training and working with fearful/nervous dogs.
Amy has a Rottie named Dizzy and a miniature sauso named Rumble. Amy also welcome a daughter into her family in 2021. Dizzy, as an 8 week old puppy had serious fear and aggression issue so she knows first hand the challenges of owning a dog with complex behavioural problems. Today, Dizzy has exceptional obedience, is an extremely social dog and although still reserved around new people, they are no longer an issue for her. The dog she is today, is so far from the dog she was when Amy got her and this is an absolute testament to Amy's training and dedication.

Amy works Monday and Tuesdays